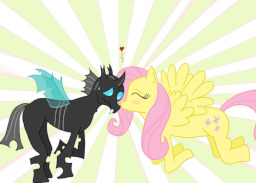 Source
EDIT: Edit: For canceling this story, the writer has been sent to the moon. We apologize for any and all trouble the absence of this fic has caused, and would like to request that you remain on the line. Your reading is important to us.
Please remember, your reading may be recorded for customer satisfaction.
Thank you!
When Fluttershy stumbles upon a half-drown, injured Changeling, she decides to take him in and nurse him back to health. She finds, as time goes on, that, not only is the changeling as bad as she thought, but the whole of the hive isn't as evil as she believed!
-------
Sorry, I'm terrible at describing my works.
Special thanks to Nate Redblood for editing for me. (Check him out here!: http://princeredblood.tumblr.com/)
Special things to RyuRedWings for Tarrlok and the Chrysalis legend. (Check her out here!: http://fillyqueenchrysalis.tumblr.com/ )
Image found on DA, by ditistomzel.
Note: Optional Chapter means it's merely a side-chapter, often a skit, or a "behind the scenes" scene. These are not nessecary to the plot, nor are they necessarily "canon" to the rest of the story. It's all up to you, dear reader.
Chapters (10)