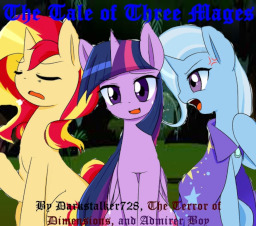 For a long time, Sunset Shimmer, Twilight Sparkle, and Trixie Lulamoon have been friends, living in Equestria under Princess Celestia's rule. However, one fateful night, their world is turned upside down, and they discover the truth.
Celestia has become obsessed with keeping her power over Equestria, being a dictator in secret that eliminates all threats to her power. However, before the three can be captured by Celestia's forces, they are saved by an Ice Mage from a resistance group that stands against Celestia.
Twilight, Trixie, and Sunset are some of the most powerful unicorns alive. Will their magic and friendship be enough to stand in the way of Celestia's want for domination? Or will they just become another lost cause?
Fan Discord: https://discord.gg/PVjy4T2
Chapters (5)