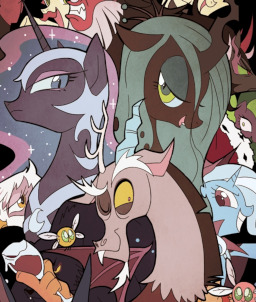 Source
Discord decides it's a really good idea to invite all the villains of Equestria, well at least the ones who almost conquered the world, to a slumber party. Good idea, right? Nope! Also, a certain great and powerful pony is mad she didn't get invited. She's a villain, right?
Pranks happen, and mayhem is the main theme of this whole ordeal. How will these four deal with each other and the many villains who are mad they weren't invited to the evil lair of sleep?
---
Coverart: https://www.deviantart.com/ssalbug/art/Villains-479112035
EDIT: Yes, I changed the title slightly and the cover art.
Chapters (1)