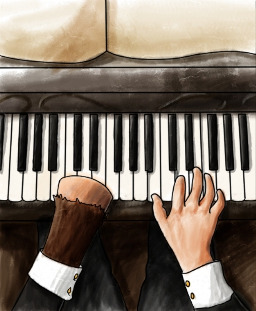 Source
The Piano Man has spent the last month in captivity, forced to play the piano as part of The Great and Powerful Trixie's traveling show. Now he's free, and recovering under the care of the Equestrian monarchy while Trixie awaits trial for her crimes.
All is not well, however. The Piano Man has a long road of recovery ahead, and all the time he must compete with overbearing carers, his own mental trauma, and even discrimination from members of Equestria's unicorn supremacist subculture.
---
This story is the kinda (can't stress that part enough) better-written sequel to 'The Piano Man'. Because the first story involved some rather dark scenes, I have included a helpful catch-up in the first chapter - so if you have no interest in reading a dark story, then you can ignore the first piece and skip straight ahead to this one.
'The Piano Man: Act II' is most certainly not a dark story, and neither is it sad. The sad tag is in place for scenes in which I reference the previous installment, and nothing else.
---
The absolutely amazing cover image was created by the even more amazing WIL_I_ZIN, (deviantART) who is just... just awesome, for helping out.
Chapters (26)