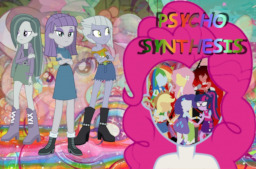 This story is a sequel to Pinkie Pie's Problematically Private Passion's Parental Personages Presented Perpostorously Prior Publishing Previously Paraphrased Preoccupation
---
Pinkie Pie slumbers, unable to wake. This would be bad enough if she were ordinary, and even worse were she still merely Pinkie Pie, the partymeister of Canterlot High. But in this new world of magic, she serves a crucial role in helping Sunset Shimmer stabilize the cosmos.
There are minds
that shouldn't be read.
So it is that her closest friends agree to delve into her mind, find what has happened to their friend, and bring her back to the waking world. This delve shall be dangerous, but they must take the journey. For them... for her... and for all of reality. And yet...
There are dreams
that shouldn't be pursued.
Secrets in the waking world have taken hold of the sleeping self. An interweave of conspiracy and coincidence contrives to undermine the connections between friends, even as they struggle to stay together long enough to find out how to help the one they'd come to rescue.
There are thoughts
that shouldn't be considered.
Trapped within an already chaotic mind thrown off kilter by unseen forces, Pinkie's friends must navigate a delicate landscape of laughter and pastry riddled with emotional time bombs, all in the hopes of bringing her back... before she is gone forever.
---
Part of the Oversaturated World.
Cover art amalgamated from the following sources (Be warned, there be spoilers!):
elvenjunko
BonesWolbach
Agrol
Euphoria Pony
Givralix
Sam-F-Nacman
SketchMCreations
u/pureparadise
SketchMCreations again
Liggliluff
SketchMCreations, a third time
luckreza8
Chapters (1)