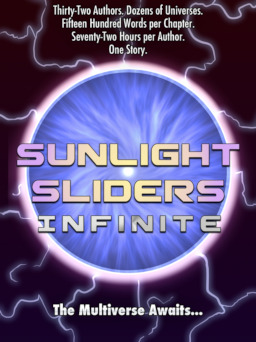 This story is a sequel to SunLight Sliders
---
When a battered girl claiming to be Sunset Shimmer dropped out of an interdimensional portal into Twilight Sparkle's bedroom, little did Twilight know that she was about to be plunged into a chaotic journey through a multiverse that holds terror and wonder in equal measure.
Now, Twilight must uncover the secrets of this strange Sunset's past, survive the whims of something called Discord, cope with Sunset's eternally-changing hairdo, deal with dozens of doppelgangers--good and bad--of Sunset and herself, and worst of all... once again come face to face with a very real demon of her own creation.
And maybe, just maybe... find a way home.
---
The 32-Author SunLight Collaboration Project
---
About the Project:
Formerly known as SunLight Sliders II, this massive collaboration project was originally built in the SunLight Sliders FimFic Group. Feel free to check the original group forums for details on the project, the original material and more.
The project kicked off on January 1, 2018 and ended on April 22, 2018. The goal? Each author writes up to 1,500 words within 3 days, always picking up where the previous one left off. The result? A constantly evolving story about SciTwi and an unknown Sunset Shimmer sent careening throughout the multiverse.
SunLight Sliders: Infinite is being published so everyone's hard work can be seen. Please note that I take no credit for the story save for the chapters I wrote (Collaboration on the Prologue, Chapter 1 and the Epilogue). If you enjoyed a particular chapter, please be sure to check out the author who wrote it!
---
Continuity Note:
Despite the name, you don't need to SunLight Sliders to read this story. One of the explicit rules for this project was that no author could reuse any story element unique to SLS1.
---
Graphics Design Credits:
Cover Art & Design by Little-Tweenframes/Adge (SciSetDiaries), Overlord Neon and Novel-Idea
Cover Text, Chapter Header & Section Break Design by Novel Idea
Twilight Sparkle Cutie Mark by Intbrony
Sunset Shimmer Cutie Mark By Millennial Dan
---
Editing:
All Editing by Novel-Idea - Unlike the original SunLight Sliders, I did not do any edits beyond a fast pass on basic grammar and spelling. All chapters are almost exactly as their original authors wrote them. There have also been no story or perspective changes from the original save for the addition of the Epilogue and adding a hairdo for Sunny in Posh's chapter (thank you Albi)!
Chapters (34)