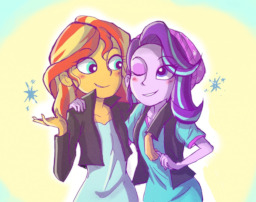 "Hey, it's Starlight. Meet me at your portal in an hour. I'm coming over."
Sunset Shimmer was enjoying a completely ordinary day when those words appeared in her journal.
Whether or not it will stay ordinary... well, they'll have to play that one by ear.
---
Cover art by Mit. Used with permission.
Spoilers in the comments.
Chapters (31)