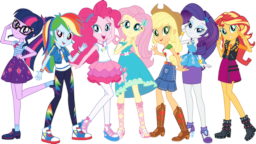 A series of shot stores. Telling how the Equestria girls like to relax when they can.
Chapter one: Rarity and Twilight.
Chapter two: Twilight and Rarity.
Chapter three: Pinkie and Sunset.
Chapter four: Fluttershy and Rainbow.
Chapter five: Rainbow and Fluttershy.
Chapter six: Applejack and Sunset
Chapter seven: Sunset and Applejack
Chapter eight: Sunset and Applejack
Edited by The Dark Wolf
Contains: Farts, wetting, messing, soap/washing, food play, pet play, Olfactophilia, and fun in the rain.
Chapters (8)