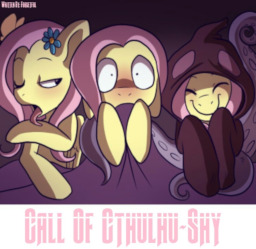 Source
In order to secure a future together, Discord grants Fluttershy ascension into a entity of chaos.
Gaining abilities of the elder creature Cthulhu.
Though after the ritual, Fluttershy must learn to cope with new cosmic powers at her command.
Gaining cultists.
Opening up portals to horrific dimensions.
And learning to live with odd new transformations her body is starting to undergo.
At least Discord is at her side for guidance, if that can be seen as a positive.
---
Made Popular On 6/18/19
Chapters (3)