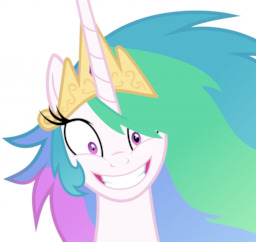 Source
A startling situation arises when Princess Celestia begins acting crazily and violently cuddling the ponies around her. Fearing the breakdown of the government, Princess Luna and one of Canterlot's most unfortunate doctors hatch a plan to cure her by letting her cuddle the daylights out of a Royal Guard.
EDIT: #2 featured on 6/17!
EDIT: Now with an AUDIO READING by LonelyFanboy48!
Chapters (2)