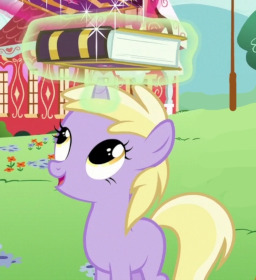 Everyone knows the classic tale: the Three Bears leave to let their porridge cool, the naive little filly Goldilocks comes in, she does porridge. Hijinks, as the saying goes, shall thus ensue.
Dinky's got a little more behind her "re-imagining" than that, though. Her mind stands trial. Can she outwit the grim judge (big sister Amethyst)? Can she appeal to the all-loving jury (Derpy, walking disaster zone and friend of insurance sellers everywhere)?
Or will she find the chair to be much too hot? And not "just right" at all?
Chapters (1)