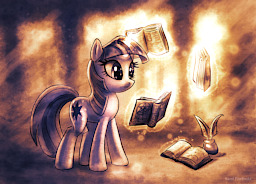 Source
Sometimes a novel isn't needed to speak what must be said. This is what I hope to achieve here. These stories (because that's what they are, despite not being in a 'conventional' format; they do provide a tale, like any other story) will be short in length, and not written in the conventional way normally seen on this site; they will be written in a format normally seen in poetry, because that's what this is. This is not to say they will be nonsensical, they are the insights, and the contemplations I imagine these characters would go through at some point. What I hope to provide is a commentary, but in a different, and perhaps fresh way.
All thoughts are appreciated. They have a guiding line of thought, and each one will have a correlation of some type (even if it's slight) with another.
Audio covers of the first two chapters by BigMacDavis are here, big thanks to him for this, fantastic work; fantastic guy.
Chapters (7)