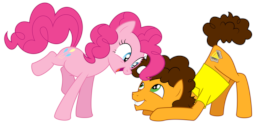 Pinkie Pie and Cheese Sandwich have been friends for some time when Cheese suggested that they try to move the relationship further. Far from objecting, Pinkie was all for it. However, as their first legitimate date approaches, Pinkie is nervous that she may screw it up, and Cheese may change his mind.
Cheese on the other hand, is nervous that he won't be good enough for her.
They both want this, so why is it so hard to progress this friendship into something more?
Chapters (1)