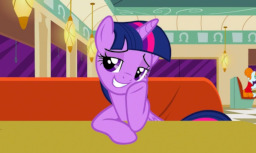 Welcome to my blog, Dates and Nuts, where I, "Ardatess" (silence s, thank you), bring you the inside scoop of various mares across Equestria in the art of dating. The pones you are about to read upon are very real; several you might've even heard of and dream and fantasize about how wonderful your life would be with them.
Well dream no more! While nopony knows my real identity yet, no thanks my special talents if I do say so myself (despite my list of enemies having grown to be rather substantial, hello haters!), I assure you this string of dating really did happen, and my experiences probably not what you expected.
So let's get on to it!
Chapters (1)