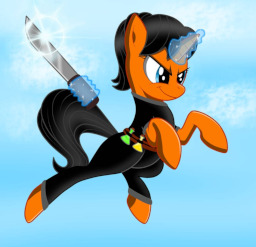 Source
*Mild violence and gore, nothing explicit*
Mystic is a mysterious unicorn and not the easiest pony to get along with. She travels a lot and doesn't rely on anypony but herself. One fateful night she learns of a potential invasion against the land of Equestria. When she decides to look into it, it sends her down on a path with lots of friendship, and meeting very familiar faces.
However, her journey might spiral into an adventure much bigger than either of them expected.
---
Cover art of My Original Character by Metal-Jacket444 on Deviantart! Go check him out!!
---
*Takes place after Season 8 and Best Gift Ever*
*Some Season 9 elements and characters will be implemented*
*Some comic book and chapter book characters are in the story, but some haven't happened according to this story. I picked characters and stories that seem the most likely to have happened in the show, in addition on which ones fit the story the best.*
*Chapters will be submitted on by my decisions and my pacing because I want this story to be the best I want it to be. Speed isn't the point, quality is.

Chapters (3)