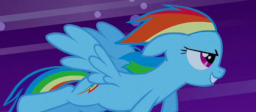 Luna invites Rainbow Dash on her dreamwalking duties.
Dream-ruining, spider-safety lessons, abduction, and imprisonment ensue.
Maybe the dream realm can't handle this much awesome.
---
Special thanks to SoloBrony for helping me hammer out the details.
Thanks to SoloBrony and JWolfSilver for editing, and to them and Wanderer D and AliceLiz for prereading.
Chapters (6)