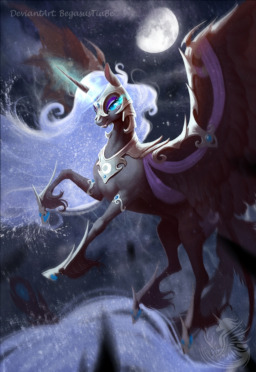 Source
A down-on-his-luck brony stumbles upon an impossible sight: Nightmare Moon, standing on a Los Angeles sidewalk! She makes him an even more impossible offer: join her in her conquest of Earth! Join Nightmare Moon and her new minion as they first try (and sometimes fail) to take over Southern California, with their eventual goal of World Conquest!
This story is the opposite of a 'Human in Equestria' story, this is a Pony on Earth story. Our Earth. There will be action, there will be comedy, and a little shipping mixed in here and there. No clop. The brony protagonist will learn that there are heavy consequences to pay if you want to try and fulfill your fantasies with an Equestrian villain.
Cover art by BegasusTiuBe.
Note: Story is 100% complete. New chapters post once a week, on every Sunday.
Chapters (3)