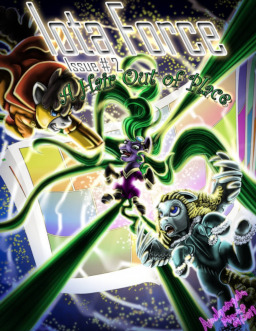 Source
This story is a sequel to Iota Force Issue #1: Baptism by Fire
---
When Icy Flight met and joined Iota Force, Ponyville's resident child superhero team, found out her own abilities and helped fight off an invasion of Lava Ponies, she thought that was the weirdest thing she'd see that month.
She's still not used to Ponyvile yet, so we can forgive this very foolish assumption.
Now, Icy and Iota Force must draw on all the strength, wit and comic book knowledge they can summon as they face a foe who fades over the fringe between fact and fiction. Can they tangle with a true comic book villain with their careers being cut short?
---
This is the second story in the Iota Force series. Reading the first is recommended.
Edited by Raven618
Cover Art by Mix-Up (Link to his Deviantart page).
Chapters (2)