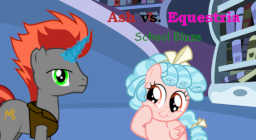 This story is a sequel to Order-naries: Storm-chased
---
(Or: Ashen Blaze Snarks, Deadpans, and Genre Savvy's His Way Through Season 8)
It is said that those who can, do, and those who can't, teach.
Ashen Blaze thought he would always belong to the first group, that the day he couldn't step up and take action against evil, injustice, and chaos would be the last day of his life. In the aftermath of the battles to repel the Storm King's invasion of Equestria, however, Ash finds himself still very much alive but unable to safely use all but the simplest of Unicorn Magic due to a twice-broken horn. Fearing what may happen if he returns to Taryn and his original humanoid body before the damage is fully healed, Ash chooses to remain in Equestria but doesn't know what to do with himself.
Fortunately, it doesn't take long for a solution to Ash's quandary to present itself. The only question is, is a pony who has known nothing but violence all his life really qualified to teach at a school that focuses on Friendship?
Chapters (3)