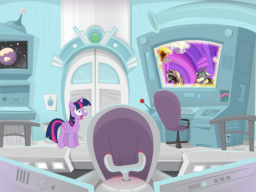 Equestria and Everglow have brushed against one another through the course of their histories, each time fleeting, but memorable to those involved. Many many years later, the unaging Twilight captains a space vessel to explore the universe and encounters some old memories of the past she had almost forgotten.
Everglow ponies were supposed to be in a whole other reality, but, perhaps, traveling far enough through the stars served the same purpose?
Equestria/Ponyfinder crossover that does not require reading anything before enjoying this tale. This story is being funded by a loyal Patron.
Chapters (89)