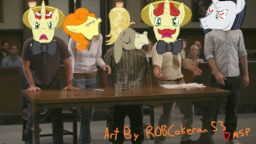 Golden Harvest found out she was getting married after a party. Problem is, her soon to be has a twin, and which one is him is anypony's guess.
Even the Twin's themselves.
Teen rating for mild language, and a couple implications.
----------
This story makes no sense, and was written in about two hours. Rushed, unedited, and probably bad.
Written for the Season 9 Bingo Writing Contest with only three days before the deadline.
Cover art done in 30 minutes via MS Paint, the best art platform there is. Random vectors are by people on Derpibooru. Rest of image is from It's Always Sunny in Philadelphia.
Chapters (1)