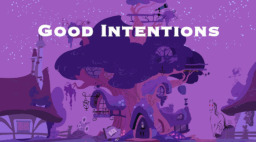 When things start to go missing around Ponyville, suspicion quickly falls on the two new ponies in town.
Twilight Sparkle, however, knows better. This isn't just somepony with sticky hooves, but possibly the start of something much worse. Sworn to secrecy by the princesses and with only her friends to help her, Twilight must unravel the mystery before the angry villagers take matters into their own hooves - and before it ends in tragedy.
For Princess Celestia has revealed a chilling state secret; something has been hunting ponies across Equestria for centuries. And now, it may be hungry again.
Chapters (11)