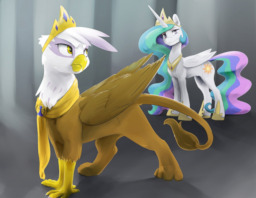 Source
The Griffon Kingdom was once a prosperous and happy country, but in the past century it has fallen into ruin. It now sits as an empty husk of what it once was, leaving the griffons living there to scrounge for whatever they can find to survive. There is no government, no leaders, and for many griffons, no hope.
Princess Celestia has done all she can to try and aid it and the griffons living there, but there is only so much she can do without causing an international incident. Now her hoof has been forced. A changeling queen is building a hive deep inside the kingdom, and once fully established it will be a threat to ponies and griffons alike.
Gilda doesn't care about any of that. She's far more interested in finishing her new bakery. It hasn't been easy, she had to persuade a number of griffons to come together to build it, but she had gotten it done. Now, with the help of her two employees (who she might go as far to even call friends) she's almost ready to open for business.
Unfortunately, Gilda's hard work is about to put her front and center in Celestia's plan to save the Griffon Kingdom. A task which comes with a whole host of problems, as well as a crown.
Editing by m1ntf4n
Custom cover artwork by silfoe
If you like what I do, you can support me on my Pateron.
Chapters (9)