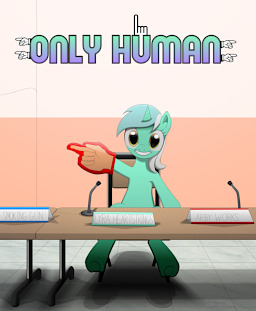 Source
Name: Lyra Heartstrings. Occupation: Cartoonist.
Lyra makes a big splash in Equestria when she gets her new animated series for children on the worlds No.1 network. The show in question: Only Human, which centers around a group of these mythical creatures called 'humans', straight from Lyra's imagination, who become friends as they overcome life's obstacles together.
With the help of her executive producer, Bon Bon, Lyra starts to make an unprecedented impact in Equestria. Making friends, enemies and... other.
Can Lyra make it in the world of television? Will the Equestria take to these new 'humans'? You'll have to tune into the Pub network every Saturday at 1PM to find out!
Cover by Arby-Works
Edited by Spabble
Chapters (16)