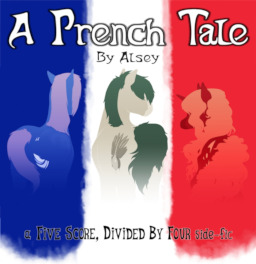 May 1st – for most it's a date like any other, apart from being a public holiday. For many, it's also their birthday. For some, it's an even more special day... This is what three young adults, on the eve of turning twenty-five, are about to discover – whether they like it or not.
Ambre, Sarah, and Laurence barely know each other, and do not share that much in common besides living and working in the same city of southern France. Yet, by chance and fate, they will find themselves thrown together into impossible circumstances as they suddenly gain strange marks on their upper thighs, and characters from a certain animated show start popping up in a world in which they shouldn't exist...
With their newly forged bond, they will have to embark on a journey of self-discovery, torn between identity and destiny, and confront a world once familiar now turned hostile. Across France and beyond, their tale will weave itself through joys and victories, hardships and sacrifices, and the magic of friendship...
---
The story of A Prench Tale is divided into Parts; though we follow the same characters from start to finish, each Part is its own individual adventure focusing on a specific plot and themes:
---
This is an unofficial sidefic set in the 'Five Score, Divided by Four' universe created by TwistedSpectrum. I highly recommend the original fic, as well as the various subsequent sidefics by other authors, but neither are required for enjoying the present tale, which is conceived as a stand-alone story exploring other corners of this universe. The fic does not currently take into account the 2019 update of Five Score, Divided by Four.
Chapters (23)