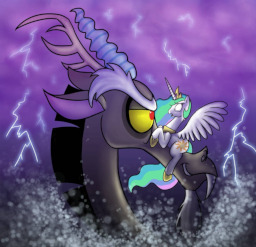 Source
One thousand years ago, the princess of Sun was defeated by Discord, who has since ruled over the entirety of Equestria. His royal advisor, Pinkie Pie, help him fighting his most terrible enemy: boredom!
With the anniversary of his reign coming soon, he has an idea to shake things up a bit.
But he is not the only one unsatisfied with the status quo. Hidden from its eyes, some ponies are ready to take action. The celebration might end up much more exciting than Discord thought, after all...
Chapters (30)