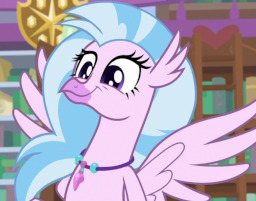 Anon wakes up one morning feeling very bad and sees he's coming down with something that's giving him a pretty high fever. Whether it be the flu or whatever, he'll have to fight it off. However it's the same day in which Silverstream is scheduled for a tutoring session with Anon. Silverstream notices Anon is ill and offers to help. After some hesitation, Anon decides to give in. It will be quite a healthy friendship lesson for Silverstream as she helps nurse Anon back to full health.
A cute little story I had in mind. Silverstream to me is just adorable and I wanted to write something focusing on her.
Story in 3rd person.
Rated Teen for occasional profanity.
There will be a little romance as the story progresses, but there's no naughty stuff. That may happen in a sequel.
Chapters (5)