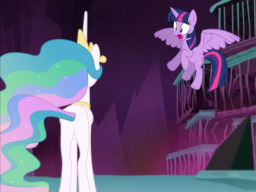 Ponykind has been peddled a lot of myths. Sometimes they were old mares tales, but sometimes it was because the truth was too awful to consider.
Twilight finds herself accidentally drawn in to the darkest secret in all Equestria.
Will she survive?
* Submitted into RockstarRaccoon's Nightmare Night in April horror write-off contest - go check it out! *
There is a small amount of mild gore in this story, and the gore tag has only been applied to ensure that those who may be offended have been warned.
This can be read as a stand-alone story or continued to its sequel Escape from Hell
Chapters (3)