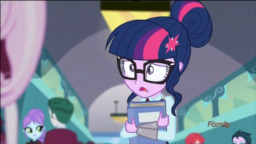 This story is a sequel to I Hate You, Twilight Sparkle
---
Idolize; Verb: to revere or love greatly something in excess.
It isn't often someone idolizes someone. Some would call that excessive or premature; especially in today's young culture. To truly idolize someone is hard to come upon when we use the word so freely. People 'idolize' this and that, not truly knowing the gravity of what the word really means; the commitment it entails.
That said, Twilight Sparkle could re-write the entire dictionary in her sleep; fixing all the inconsistencies and mistakes. That is why when she believes she idolizes Fleur de Lis, she isn't just making mountains out of molehills.
Of course everyone adores Fleur. But none so zealously as Twilight Sparkle... So why does Fleur hate her so much?
---
Still based on Fleur de Lis' clean and burning hatred oozing from "Friendship Games".
Chapters (1)