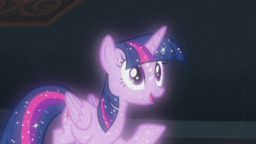 Source
(A one shot idea based on this beautiful comic, takes place in an AU post Season 8 due to (Spoiler Alert!) the Season Nine trailer revealing the Tree of Harmony will be destroyed.)
Twilight Sparkle thinks she knows everything there is know about the Tree of Harmony and the map within the castle that it spawned. So she is surprised when the map calls her alone to the Tree of Harmony's location.
It is there that the Tree of Harmony reveals a secret known only to Twilight's students, it has taken on a physical form and gained sentience. Taking the form of Twilight herself, the tree wishes to talk with the young princess about many details.
Much will be revealed as the Tree of Harmony shares in its experiences, and Twilight will be left with a sense of perspective, both on the tree's role and the role friendship plays in promoting harmony throughout the world.
Chapters (1)