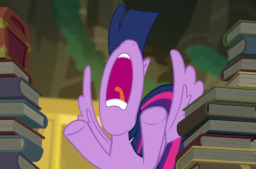 Source
pluperfect, n. the past perfect verb tense.
pluperfect, adj. more than perfect; excessively precise or complete.
A weekend with all her friends away, a shelf full of books, and Haycartes' Method- the spell that lets a pony see a book from the inside. It seemed like a perfect relaxing weekend for Twilight Sparkle- with a little tweak to the spell, that is.
Then she woke up inside the story... as the main character... with the main character's memories... and the main character's thoughts trying to override her own...
... and she can't remember how to get back out.
Another daily-writing attempt combined with reading new books.
Chapters (49)