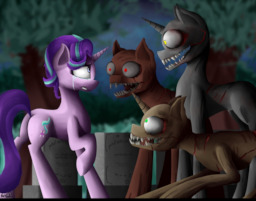 Source
Teenage Starlight Glimmer is a latchkey foal, her parents never at home, so she's raising herself. She has demigoddess-level magic, untreated mental illness, and (hidden in the back of her closet) a black grimoire, a vile necronomicon, a book of the most blasphemous spells only known to the worst eldritch abominations and Tirek-worshippers that have ever existed.
It's not a good combination.
Starlight isn't a bad filly, really she's not, but she has problems. She tries to be good, not always successfully, but when Starlight's mother suffers yet another personal tragedy, and there's nothing Starlight can do to cheer mom up, the necronomicon offers Starlight some help from the most loathsome depths of space and time. And Starlight is always looking for the magical solution to her problems.
Can Starlight cover up her crimes before dawn?
---
Cover art by commission with the excellent NixWorld! (FIMFiction — DeviantArt). Please show NixWorld the love.
NixWorld made Equestria Daily!
https://www.equestriadaily.com/2019/02/open-my-little-pony-art-compilation-all_22.html
---
Vaguely shares a universe with my other stories. No need to have read them first, however.
Chapters (8)