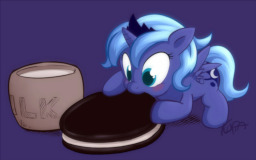 What is this strange confection of black and white?... Oh... We like this...
So, yeah. Luna eats an Oreo. Just a short one-shot that I had the idea for while eating Oreos.
Here's an epic poem written by one of the fans of the story- thanks to The Equestrian Gentlecolt for writing this up!
"What is this thing of black and white,
Which taunts the Princess of the Night?
Is it friend or is it foe?
Sister says the answer's "no."
It's not a monster, you can't beat it.
Silly girl, you're meant to eat it!"
Chapters (2)