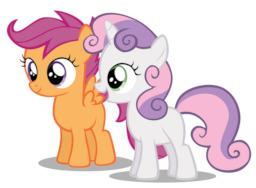 Source
(Takes place before the beginning of "Friendship is Magic". An early birthday present for Madeline Peters. Proofread by Smity91 on Fanfiction.net, and proofread and edited by deadpansnarker on FiMFiction.)
It's not easy to make friend when you're new to town, Scootaloo knows that fact all too well. As one of the only pegasi in Ponyville, the filly has no friends and has the unfortunate luck of also being without a cutie mark.
However, Scootaloo's luck changes when she stumbles upon another blank flank filly, a unicorn by the name of Sweetie Belle. Sweetie Belle's also having trouble making friends, but she knows her way around Ponyville.
But are these the humble beginnings of a friendship that will last the ages? Or is Sweetie Belle just showing some kindness to a newcomer?
Chapters (1)