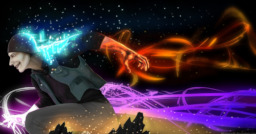 Source
Anyone who has played the inFAMOUS games series, you know what a Conduit is. If not, let me explain. A Conduit is a sub-species of humans who possess superhuman abilities afforded to them by the "Conduit gene". Their abilities can range from manipulation of a certain forms of energy or matter, to flight, enhanced senses and strength, or other physical and mental enhancements. But Delsin Rowe is special. He is not only a Conduit, but he absorbs the power of other Conduits. But enough about that, you want the summary of this story.
Delsin Rowe is sent to Equestria, near Manehatten. But upon arrival, sees that it is being over run by criminals. Not liking that one bit, he uses his powers to fight crime. But when the things he leaves behind is noticed, word is sent up the grape vine.
Celestia disapproves of this 'Vigilante' while Luna thinks otherwise. Nonetheless Luna goes out to greet this hero, maybe even protect him from the guards. Though she may find more to him than just his power.
Chapters (6)