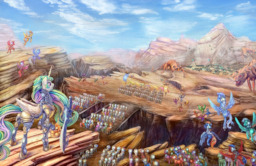 Source
For ten years, Equestria and the Hives have fought a deadly struggle of survival. The Hives hunger for love and a source to harvest it from. The Equestrians just want to go back home. And now, after ten years, Equestria has pushed to the doorstep of the Hives' nests: a winding, narrow canyon by the name of Alkatin.
Army Group Center, exhausted after a long campaign into the Badlands, has seized control of a critical pass through Alkatin. Reinforcements are on their way to sustain the drive into the heart of the Hives and put an end to the war once and for all. But before they can get there, the ponies holding the pass will have to weather one more onslaught, one more counterattack by the Hives to throw them back out of the Badlands.
And at the center of it all are a group of strangers, drawn together from all across Equestria.
One way or another, the war will end today.
---
This story was a commission for PuppetXMaster.
Art by viwrastupr
Chapters (3)