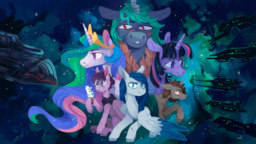 This story is a sequel to Starship Ponyville: Mystic Acoustics
---
Not long after the Statera conflict, the Satyrn ventures across the galaxy on the Starship Ponyville, rocketing into space to search the stars for a place to found new Equestria. Under the leadership of Celestia, Twilight, and Sylver, the ship is set onto a number of courses towards locations of interest. However, the mission digresses when they're attacked on an asteroid excavation a few light years out from Equestria.
Created by Vylet & Sylver
Written by Vylet Pony
Proofread by Leo, Sylver, Lavender, HomieRicky, Milk, Emby, Fizzle Soda, Araxnus, FlyoverRob, and Namii
Main artwork by Stereo Flier
It is not technically required that you read the previous story, Mystic Acoustics.
Chapters (17)