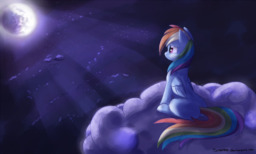 Source
Rainbow Dash dreams.
She dreams of stars. And then, when she is visited by the Princess of the Night, she dreams of other things, things that Luna assures her will provide answers and solve her problems. If only they weren't so painful to relive.
If only Dash knew what Luna was trying to help her with in the first place.
Chapters (1)