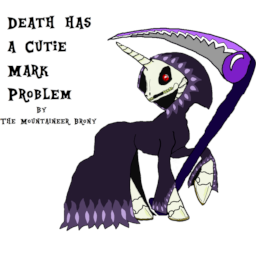 Death. For some, it is a blessing after ravaging disease or a life well lived. For others, it is an inevitability to be feared above anything else. Everyone wonders what happens after you meet the Reaper, but no one knows for sure.
Death. It comes just as surely to ponies as it does to any other creature. A part of life as natural as birth.
However, the Death that comes to ponies is more like a pony than you would expect.
In Equestria, Death has a Cutie Mark.
And with Cutie Marks come Cutie Mark Problems.
So what happens when the Reaper of Souls, the Pale Horse himself, loses touch with his purpose in life---er, death?
He seeks out the three fillies most suited for the job in all of Equestria.
Surely, if the Cutie Mark Crusaders can help so many other ponies with their problems, then they can help Death in Pony Form?
---
Alternatively titled The Grim Adventures of the Cutie Mark Crusaders.
Cover art furnished by myself. I used a template for the general body plan, but I couldn't make out the signature to tell who created it. If you recognize it as yours, though, I'll credit you.
Chapters (6)