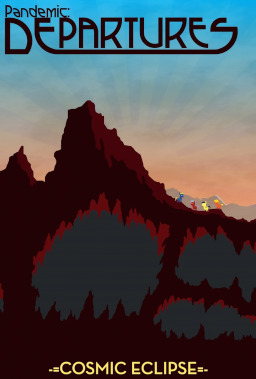 This story is a sequel to Pandemic: Dreamers
---
(Chapters 1-12 will be seeing significant rewrites in the near future to address pacing and other issues that I've wanted to address - They're more than a bit rough in some places, but hey this has been a great learning experience!)
Set in the Pandemic Universe
A Scholar on a journey,
An Optimist seeking out an oasis,
An Inventor with dreams of a better Tomorrow...
Three months have passed since the ETS pandemic left a quarter of the US population transformed into ponies, completely changing their lives for better and for worse. A group of ponies set out to find something new in the world, their paths crossing at an important junction in their lives. Trying to put the past behind them, the group sets out to make their dreams of a brighter tomorrow a reality...
...However, not everything is as perfect as it seems... for some, the future is merely a means to an end, the path to fame and fortune... will the group be able to overcome the many challenges involved with creating the future?
Halira's stories, What you are Meant to Be and Picking up the Pieces offer some expanded night pony lore which give a fuller understanding of the concepts brought up in this story. The original story is highly recommended as it offers the basic premise for this rather niche sub universe.
Special thanks to:
ASGeek2012
Halira
Cander
Blackdust
and
Lawra
for offering much needed feedback and advice over the course of writing this story.
Chapters (19)