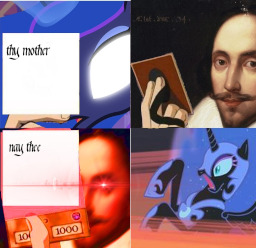 This story is a sequel to Laws of Celestial Motion
---
There are many things that William Shakespeare finds amusing: insulting in Old English, insulting royalties, insulting people who easily get offended, and insulting royalties who easily get offended in Old English.
One thing he doesn't find amusing, though, is losing.
There are many things that Princess Luna is known for: she likes to speak in Old Ponish, she's royalty, she easily gets offended, and she is a royalty who easily gets offended in Old Ponish.
And, known only to her sister, an undefeated champion of archaic insults.
---
Beware inappropriate jokes told in Early Modern English.
Chapters (1)