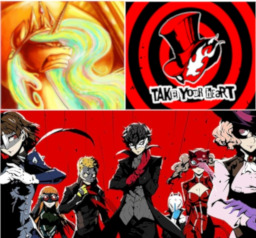 Persona 5 / MLP Crossover.
Her Majesty Princess Celestia, the Prideful self-styled Goddess of the Sun and mother of all sins who crossed the thin line between righteousness and self-righteousness.

You are the ruler who hides her hunger for power behind lies and facetious benevolence while condemning an entire race to extinction.

We have decided to make you confess all your crimes with your own mouth.

We will take your distorted desires without fail.

From,

The Phantom Thieves of Hearts.
When a huge chunk of Equestria appeared floating above Japan surrounded by a bright golden barrier, everybody panicked until Celestia appeared before them with promises of friendship and peace…
But then things changed.
The Barrier soon started growing, engulfing everything on its path and killing every human it touched while leaving behind everything else, albeit "Purified".
Even Celestia changed, and what once were promises of camaraderie and brotherhood, became veiled threats:
"The Barrier cannot be stopped, we are sorry."
"We cannot control it, but you can still be saved! Convert! Become a pony! Become one of us and the Barrier and the Magic of Equestria will no longer hurt you!"
But while some believed the words of this gentle mare, others felt mistrust and fought back, turning the offer of Conversion into an obligation:
Convert or Die.
All while still begging Humans to accept, even when Conversion showed dire downsides to the humans undergoing it.
But there is no longer time, if the humans can't decide, the Ponies will decide for them: Conversion! Conversion at all cost!
And from the shadows of despair, a last spark of hope emerged!
A group of young forgotten heroes, called back in action by the Staff of the Velvet Room to enact the Greatest theft in history!
It's time for the Phantom Thieves to return, and steal the purest hearts of them all before those too fall into Distortion!
Equestria will never see it coming.
Chapters (14)