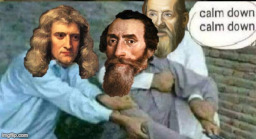 There are many things Kepler was known for: mathematician, astronomer, and a great man. Calm, however, was not one of them. Especially when his life's work decided to do a barrel roll.
There are many things Celestia was known for: calm, regal, and caring. Also, for the few close to her, mischievous. Kepler was not one of them.
---
Any kind of criticism sophisticated, highly intellectual insults are welcome.
Chapters (1)