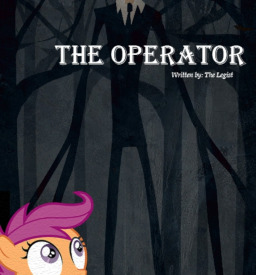 It all began thousands of years ago in some dark and smoky cave with a tale-teller chanting to his awe-struck tribe huddled around a sputtering fire. He told of strange beasts, angry gods, and dark magic afoot in a dangerous world. He embellished a bit too much, and technology was young. Nothing could be proven, so these stories became ghost stories.
But in a civilized Equestria, ghost stories are just for fun. Just for scaring fillies and colts on a Nightmare Night slumber party.
So, when an orange filly happens upon a book out in the everfree, she doesn't think twice about sharing its contents with her easy-to-scare friends. What she doesn't know, is that she didn't find a book. She found a journal. And it's not like any ghost story she has ever read.
***
A horror fic, or at least my attempt at one. Based heavily on the Slenderman legend, or at least my interpretation of it. There won't be any gore or sex, so don't think this is your typical "Oh, it's already rated R for being scary, lets just throw a few sex scenes in it" that Hollywood tends to lap up like a thirsty dog.
Have fun, and remember... Once you see him, it's already too late.
Chapters (7)