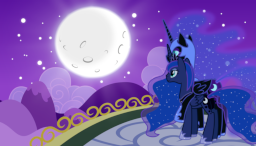 Source
While the Changling attack at the Canterlot Wedding ended up with Twilight and her friends being victorious, everypony has no clue what Luna was doing during the chaotic time.
As she is forced into battle with a similar enemy and forced to face the evil inside herself.
The pic is not mine I except no credit the picture. It was made by anbolanos91 and 90sigma on deviantart
This is my first fic so I hope you enjoy, please give feedback but don't scold me too much on only grammar mistakes.
Chapters (2)