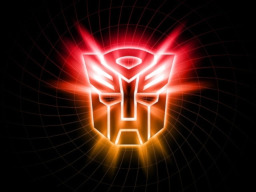 Source
Civil war has ravaged Cybertron, homeworld to the Transformers, for millions of years.
Megatron, leader of the Decepticons, has recently discovered an ancient power that could give him the edge to win over the hated Autobots led by his mortal enemy, Optimus Prime.
Called, "Equestrian Magic", this power remains under the protection of seven organic life forms, who reside in a primitive world designated as... EARTH.
---
* My Little Pony: Equestria Girls and Transformers: Prime are both owned by Hasbro.
* In terms of EQG continuity, the story takes place after Holidays Unwrapped.
* In terms of TFP continuity, it takes place in an alternate reality where neither Autobots nor Decepticons ever met the human characters of the series, and both factions have members that are slightly different from the ones in the actual show.
Chapters (17)