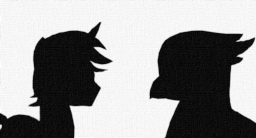 There is always some pony out there for some pony. In this Unicorn's case, it's someone he hasn't even met. Red Velvet is a user of a online service called Smoke and meets a user who ends up changing his life forever.
Along with his new friend, Velvet goes along with his life in Hoovesiana at a bakery with a mother figure by the name of Peach Cobbler who owns the family bakery. Velvet learns his valuable lessons from her and soon changes based on her words of encouragement.
Miles Away is not a typical love story, it is one with many different parts that all connect to a central theme of caring for those you love and cherish. Whether it be in real life or thousands of miles away, this tells the story of love in all forms.
Chapters (11)