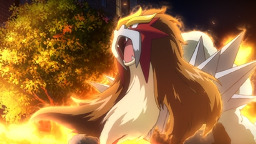 It's barely been three weeks since Twilight Sparkle's coronation, and she and her friends are already running a diplomatic mission to the Marewaiian Islands. A surge of volcanic activity has disturbed the fragile island chain, and the Elements of Harmony are quick to investigate.
They discover that there's something inside the volcano, and otherworldly doesn't even begin to cover the situation they've gotten into...
====
Mark Sykes never asked his dad why he shouldn't open the oak chest in his closet. However, when his dad passes away and leaves the chest to Mark, he lets his curiousity the better of him. When he opens the ancient wooden chest and discovers what lies within, he is brought to a strange new world.
And apparently that comes with being transformed into Entei, the Volcano Pokemon. Also, did I mention that the locals have taken to worshipping him as "Guardian of the Flame?"
Yeah, things are about to heat up, real fast.
====
Pokemon crossover, will have swearing, slight gore, and violence.
Chapters (3)