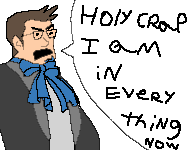 "Every pony thing evre made would be better if it had me in it."
- me
I, Detective jakkid166, will be prepared to make every pony fanficion, video, and game better by me being in it. All you favorite pony content, except it has ME! And even I could be in some episodes of the show except cause the charaters are idiot I'm good at my job.
The ultimate Detective jakkid166 adventures collection, as he goes into EVERYTHING to make it good.
(These stories is not canon to my other stories unless it says so.)
Chapters (7)