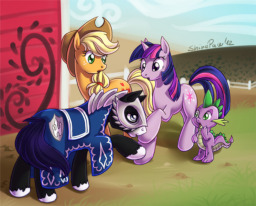 Twilight Sparkle always enjoyed those quiet days in Ponyville when those 'crazy ponies' weren't always driving her crazy every single day. Unfortunately for Twilight, this day isn't going to be one of those days!
When a royal servant from Canterlot and a knightly pony prince all happen to come to Ponyville, everything is not exactly all fun and games. Twilight Sparkle and her friends must not only deal with these newcomers, but also the trouble that seems to be following them as well.
Can Twilight help keep the peace in Ponyville? Or will disaster strike at Ponyville and spread to Canterlot itself?
=======
For various illustrations on this story and the next few stories I'll be writing, please visit my DeviantArt page here:
http://lionel23.deviantart.com/gallery/33762051
Chapters (7)